I totally owned my sock obsession.  Dove in with gusto and both feet (oooh a pun).  With it has come hours (more than I want to admit) on ravelry looking for fun socks to help make my 12 pairs in 12 months goal.  I came accross the Poppy Socks pattern and went nuts over it.  Such a great pattern it immediately went to the top of my queue.  The first challenge was to find the right gauge yarn – it was almost laughable that with all the sock yarn I'm accumulating of late that there was not ONE 9 stitches to the inch.  Supposedly it's fingering weight but I think its really more toward lace weight.  A trip down to Knit-Purl in sudbury and I found the most beautiful Ella Rae Lace Merino.
I'm always telling people at SnB to do a gauge swatch – as much as a pain in the royal ass as it is.  So I diligently gauged this one and was happy to find that I was on target with size 2 needles.  Looking through the pattern I knew there would be a ton to learn with these socks.  So armed with my laptop I set out to tackle my poppy socks!
Hitting row 2 was the first challenge – k2 cc, p2 mc – swapping back and forth between contrast and main colors.  I've had a tiny bit of experience with this when I did my cuff on the watergarden shrug, and set out to tackle 2 handed knitting.  Holding the contrast color in one hand and the main color in the other – I knit the stitches in English method using my right hand and purled using Continental method using my left hand.  Actually this is pretty simple and I got right into the swing of it and quickly through the 5 rows calle for.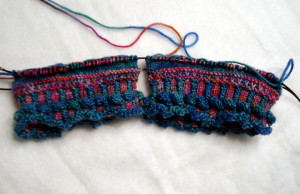 Now onto the Bobble row – ok so the last time I did bobbles they were a miserable failure.  (Even the felting didnt eliminate that failure!)  These made more sense and I'm a bit more daring now so I was convinced I could handle them.  After a few bobbles which include k5, turn, p5, turn, k5 I figured it was a great time to learn backwards knitting and try and eliminate all of the juggling and yarn tangles that were showing up.  I found several tutorials that made sense, but I think the best one was Knitting Backwards on my old standby of knittinghelp.com
Bobble row completed I started on the pattern.  Yet another learning opportunity – how to deal with the strands.  I found two great tutorials online one step by step:  http://deepspaceknit.blogspot.com/2007/11/tutorial-woven-fair-isle.html and this awesome video: http://www.philosopherswool.com/Pages/Twohandedvideo.htm. Knitting in hand, laptop in front of me, I managed to really get the whole two handed two color thing and was on my way.
About half a poppy pattern through I started to worry about size – would this really fit?  I swatched – but that sneaking feeling that they werent quite right.  Trying to get the inch or so over my foot confirmed that gauge or no gauge these socks would be too tight… I fought being discouraged and went about the big frog.  I told myself that it was ok because I could just practice all that I had learned again and really get it right.  Once more I start on bigger needles.  I actually surprise myself and get back to where I was in only a few hours (over two days).  Onward!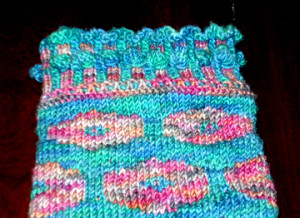 I'm motivated and moving along at a really good clip – these socks are so so pretty.  I've got the hang of the two colors, carefully not making my strands too long, and not pulling too tight.  I try the sock on and its fitting well.  The heel went really well – and the pattern was easily managed.  Still fitting as I go…I feel like I'm sailing through the pattern and am thrilled to get to the toe.  Everything still fits great.
How hard can the toe be?  The toe is a series of more popies.  Not difficult pattern wise, and I didnt think I was pulling too tight – but I get about half way through the toe and decide to try – my suspicions again correct the toe just feels funny and too tight.  Frog frog frog…at least it was only a half of the toe.  Lets adjust once more, the pattern calls to go to a smaller needle on the toe – I opt not to and reknit…I get to the end and try again…nope still dreadful.  Hmmm pattern modification again – instead of the stranding which seems to be choking my toes, I continue the pretty pattern of the heel all the way through until the end.  Beautiful sock…finally finished and ready to try…gotta tell you…this is probably one of the most beautiful socks I've ever seen…but it is also the most uncomfortable sock I've ever tried on!
Can you hear me screaming from where you read?  This sock has pretty much done me in.  What would normally be just second sock syndrome for this pair is instead a F*ck the second sock syndrome.  There is absolutely no reason on this earth that I will ever even consider making the mate to this sock.  Not only that – it has pretty much killed my pair of socks a month goal –
I admit that I learned TONS making this sock – and thats always a good thing.  But color me (nice pun huh) totally unenthused with socks for the moment – the poppy socks were a total buzz kill.  Now the question of what to do with just one sock other than admire it every once in a while hangs.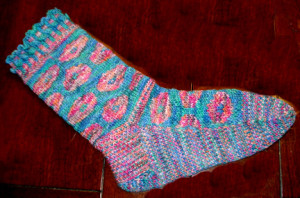 Oh well…next project please!